NEW RECORDS OF BRACHYURAN CRABS SPECIES (CRUSTACEA-DECAPODA) IN GULF OF ADEN- YEMEN
Abdullah Al-Hindi

Biology department, Aden education, Aden University, Yemen

Stefan Forster

Institut für Biowissenschaften – Meeresbiologie, Rostock University, Germany

Michael Apel

Museum Mensch und Natur (Munich), Germany

Roland Melzer

Zoologische Staatssammlung München, Germany
Abstract
The information on the biodiversity of crustaceans, especially brachyuran crabs on the northern shore of the Gulf of Aden is even more limited and almost completely unknown. The coasts in the south of the Arabian Peninsula at the Gulf of Aden have not received much attention, with few studies in the field of marine biodiversity in general and brachyuran crabs in particular. There is a large gap in knowledge on the fauna of brachyuran crabs inhabiting the coastline in this region, so; this study aims to fill the gap in the data in this part of the Arabian Peninsula. In this study, 1750 brachyuran crab specimens were collected from 36 sites along the Yemeni coastal waters in the Gulf of Aden. These specimens were collected by hand, hand nets, snorkeling up to 2 m depth, SCUBA diving. Moreover, trawl nets were used up to 300 meters and small fish traps. All these specimens were transferred to ZSM for identification (by morphological characteristics and morphological characteristics of the gonopods) and putting together all information such as sex, measurements, locations, collection dates, habitats, and collectors of the specimens. This study recorded 163 brachyuran crabs' species belonging to 17 super families, 28 families and 110 genera. Of the 163 species, 53 species represent the first record for Yemeni coastal waters at the Gulf of Aden. Moreover, 8 species were considered the first recorded in the marine waters of the Arabian Peninsula is given.
Keywords:
New records, Decapoda, Brachyuran crabs, Gulf of Aden
Downloads
Download data is not yet available.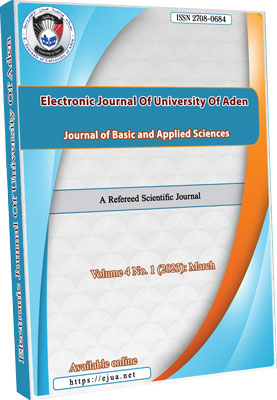 How to Cite
Al-Hindi, A., Forster, S., Apel, M., & Melzer, R. (2023). NEW RECORDS OF BRACHYURAN CRABS SPECIES (CRUSTACEA-DECAPODA) IN GULF OF ADEN- YEMEN. Electronic Journal of University of Aden for Basic and Applied Sciences, 4(1), 106-129. https://doi.org/10.47372/ejua-ba.2023.1.227
Copyright (c) 2023 Abdullah Al-Hindi, Stefan Forster, Michael Apel and Roland Melzer
This work is licensed under a Creative Commons Attribution-NonCommercial 4.0 International License.