IN VITRO ANTIMICROBIAL ACTIVITY EVALUATION FOR DIFFERENT PHARMACEUTICAL DOSAGE FORMS OF CIPROFLOXACIN IN ADEN-YEMEN
Wafa F. S. Badulla

Dept. of Pharmaceutical Chemistry, Faculty of Pharmacy, University of Aden, Aden, Yemen

https://orcid.org/0000-0003-1145-860X

Yafea S. T. Al-Omary

Dept. of microbiology, Supreme Board of the drug & medical Appliances, Aden, Yemen

Khaled Saeed Ali

Dept. of Pharmaceutical Chemistry, Faculty of Pharmacy, University of Aden, Aden, Yemen
Abstract
Ciprofloxacin (CIP) is classified as a second-generation fluoroquinolone structurally similar to nalidixic acid. It is a widely used antibiotic to treat different types of bacterial infections. The present study was carried out to evaluate the antimicrobial activity of three different dosage forms of CIP [tablets (Tab coded I, II, III), CIP infusion (Infusion coded I, II, III) and CIP eye drop (Eyedrop coded I, II, III)]. Three most commonly prescribed and dispensed brands for each dosage form were selected. All studied brands were within their shelf life. All brands examined by spectroscopy and the quantity of the active ingredients was with the permitted limits of British pharmacopeia (95-105%). The disk diffusion method was used to evaluate the antimicrobial activity of CIP against E. coli and Staphylococcus Aureus. The highest inhibition zone was at low concentration against E. coli, by Tab-II, Tab-I, and Tab-III tablets respectively. While in the case of infusion, the Infusion-III showed the highest inhibition zone, followed by Infusion-I and Infusion-II. In the case of Staphylococcus Aureus, all Tab I, II, and III have similar potency. At low concentration, Infusion II, III indicated similar while Infusion I had lower potency. However, all brands had slightly higher potency over the standard. All brands of eye drops showed nearly similar potencies against Staphylococcus Aureus with a slight superiority of Eyedrop-I over Eyedrop-II then Eyedrop-III in the highest concentration. All the brands of eye drops showed antimicrobial activity slightly lower than standard. Post-marketing surveillance is an essential issue to distinguish poor-quality medicines. The current study revealed that the marketed CIP pharmaceutical dosage forms showed reasonable antimicrobial activity except for the eyedrops dosage forms which showed slightly lower inhibition zone in comparison to standard
Keywords:
Ciprofloxacin, disk diffusion method, E. coli, and Staphylococcus Aureus
Downloads
Download data is not yet available.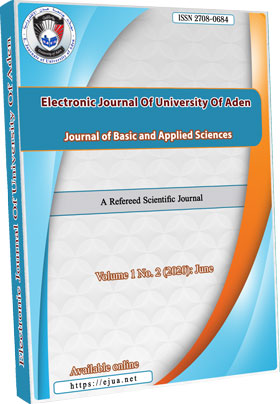 How to Cite
Badulla, W. F. S., Al-Omary, Y. S. T., & Ali, K. S. (2020). IN VITRO ANTIMICROBIAL ACTIVITY EVALUATION FOR DIFFERENT PHARMACEUTICAL DOSAGE FORMS OF CIPROFLOXACIN IN ADEN-YEMEN. Electronic Journal of University of Aden for Basic and Applied Sciences, 1(2), 93-99. https://doi.org/10.47372/ejua-ba.2020.2.23
Copyright (c) 2020 Wafa F. S. Badulla, Yafea S. T. Al-Omary, Khaled Saeed Ali
This work is licensed under a Creative Commons Attribution-NonCommercial 4.0 International License.