BIOGAS PRODUCTION FROM COW DUNG AND ISOLATION OF METHANOGENIC AND NON- METHANOGENIC BACTERIA IN YEMEN
Nousiba L. Jaml

Dept. of Biology, Faculty of Science, University of Sana'a, Sana'a, Yemen

https://orcid.org/0000-0003-3971-8653

Saeed M. Ghalibi

Dept. of Biology, Faculty of Science, University of Sana'a, Sana'a, Yemen
Abstract
Cow dung is a major source of biogas production and microorganisms play a vital role in production. this study aims to production of biogas by fermentation of cow dung. The production process has a batch digester (small size model); the biogas formed were measured by liquid displacement method.
The results of this study showed that the output of biogas production during summer and winter seasons were 2880 mL and 377 mL, respectively The pH value of cow dung was 7.32 while the pH value of biogas slurry was 7.91. temperature inside digester was higher than outside digester due to biogas production.
Different bacterial species had been isolated from the biogas slurry , which prepared from Cow dung after biogas production . Morphological and microscopic studies have been carried out to identify isolated bacteria. In anaerobic condition, both methanogenic and non-methanogenic bacteria were isolated e.g. Pseudomonas putida, Pseudomonas aeruginosa, Escherichia coli, Bacillus subtilis, Proteus mirabilis, Proteus vulgaris, Enterobacterium cloacae, Streptococcus bovi, Methanobrevibacter smithii, Methanospirillum hungatii and Methanobacterium formicicum
Keywords:
Biogas, Cow dung, Biogas-slurry, Methanogenic bacteria
Downloads
Download data is not yet available.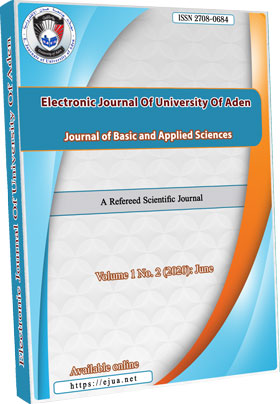 How to Cite
Jaml, N. L., & Ghalibi, S. M. (2020). BIOGAS PRODUCTION FROM COW DUNG AND ISOLATION OF METHANOGENIC AND NON- METHANOGENIC BACTERIA IN YEMEN. Electronic Journal of University of Aden for Basic and Applied Sciences, 1(2), 105-110. Retrieved from https://ejua.net/index.php/EJUA-BA/article/view/25
Copyright (c) 2020 Nousiba L. Jaml, Saeed M. Ghalibi
This work is licensed under a Creative Commons Attribution-NonCommercial 4.0 International License.