HISTOLOGICAL ALTERATIONS IN THE BODY WALL OF EARTHWORM ALLOLOBOPHORA CALIGINOSA EXPOSED TO DIMETHOATE INSECTICIDES
Nada Al-syed Hassan Ahmed

Dept. of Biology Faculty of Education Aden, Yemen

Afrah Yahya Abdulla Yahya

Dept. of Biology Faculty of Education Aden, Yemen
Abstract
Dimethoate is an organophosphorus insecticide with contact and systemic action used against a broad range of insects in agriculture. Dimethoate is highly mobile in soil. Its residues have been detected in soils, sediments, and water due to their non-regulated usage practice. Therefore, it affects the beneficial organisms that live in the soil, such as the earthworm. Earthworms are considered as soil engineers because of their ability to modify soils and plant communities, as earthworms ingest large amounts of soil and organic matter, they are continuously exposed to contaminants through their alimentary surfaces. The earthworm Allolobophora caliginosa was exposed to Dimethoate and the concentrations were range from 0.05 to 2.5 ppm. The changes in the body wall were represented by the appearance of vacuolated in the epidermis layer and muscle layers, the epidermis separating from the muscle layer then the cells were destroyed, and the effect increased by increasing the concentration of the pesticides.
Keywords:
Earthworm, Dimethoate, Histology, Body wall
Downloads
Download data is not yet available.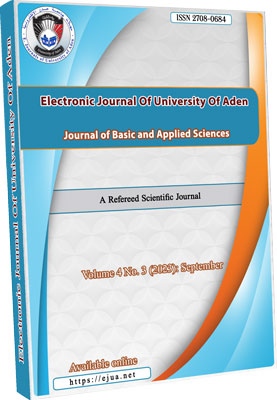 How to Cite
Ahmed, N. A.- syed H., & Yahya, A. Y. A. (2023). HISTOLOGICAL ALTERATIONS IN THE BODY WALL OF EARTHWORM ALLOLOBOPHORA CALIGINOSA EXPOSED TO DIMETHOATE INSECTICIDES. Electronic Journal of University of Aden for Basic and Applied Sciences, 4(3), 226-236. https://doi.org/10.47372/ejua-ba.2023.3.272
Copyright (c) 2023 Nada Al-syed Hassan Ahmed and Afrah Yahya Abdulla Yahya
This work is licensed under a Creative Commons Attribution-NonCommercial 4.0 International License.