TAXONOMIC STUDY FOR GENUS INDIGOFERA L. (FABACEAE) IN EREF GABAL, AL-MAQATERAH DISTRICTS, LAHEJ GOVERNORATE, REPUBLIC OF YEMEN
Azmi Abdulmatloob Ahmed Saif

Dept. of Biology, Toor-Al-Baha University College, Lahej University, Yemen

Esmail Mohammed Ghalib Almosanif

Dept. of Plant Production, Faculty of Agriculture and Food Sciences, Ibb University, Yemen
Abstract
This current study deals with the Indigofera L., in Eref region, Al-Maqaterah district, Lahej governorate, Yemen. During the period from August 2020 to March 2023. The present study recognized 6 species are: I. amorphoides, I. arabica, I. articulata, I. coerulea var. coerulea, I. hochstetteri and I. spinosa. The habit, vegetative and reproductive characters proved that they are with high taxonomic values in identification and classification at the level of species of Indigofera. The chorotype for recorded taxa in study area belong to Sudano-Zambezian. The chomophytes are dominant in studied area.
Keywords:
Classification, Fabaceae, Indigofera, Genus, Species, Lahej, Life forms, Chorotype
Downloads
Download data is not yet available.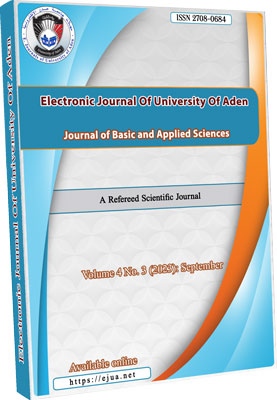 How to Cite
Saif, A. A. A., & Almosanif, E. M. G. (2023). TAXONOMIC STUDY FOR GENUS INDIGOFERA L. (FABACEAE) IN EREF GABAL, AL-MAQATERAH DISTRICTS, LAHEJ GOVERNORATE, REPUBLIC OF YEMEN. Electronic Journal of University of Aden for Basic and Applied Sciences, 4(3), 281-285. https://doi.org/10.47372/ejua-ba.2023.3.277
Copyright (c) 2023 Azmi Abdulmatloob Ahmed Saif and Esmail Mohammed Ghalib Almosanif
This work is licensed under a Creative Commons Attribution-NonCommercial 4.0 International License.