INVESTIGATION OF MERCURY AND TITANIUM CONTENTS IN SKIN WHITENING CREAMS COMMONLY USED IN YEMEN BY ICP-MS
Shaif Mohamed Kasem Saleh

Department of Chemistry, Faculty of Science, University of Aden, Yemen

Omeima A. Abdul Ghani

Department of Chemistry, Faculty of Education-Aden, University of Aden, Yemen

Abdulaziz N. Amro

Department of Chemistry, Faculty of Science Taibah University, Al-Madinah Al-Munawarah, KSA

Thamer S. Alraddadi

Department of Chemistry, Faculty of Science Taibah University, Al-Madinah Al-Munawarah, KSA
Abstract
In this study, ten (10) samples of skin-whitening creams were analyzed for determination of mercury and titanium. The samples were collected from various retail shops, pharmacies and beauty aid stores in the local market of Yemen. Levels of mercury and titanium in creams were determined using Inductive Coupled Plasma with Mass Spectrometry (ICP-MS). The concentration of mercury in the creams ranged from below 0.0167 to 47151 μg/g and that of titanium ranged from below 0.0083 to 59.442 μg/g. Fifty percent (50%) of creams samples for mercury had concentrations more than Maximum Permissible Limits by specifications of the US Food and Drug Administration's, (USFDA), German and Canada (Maximum Acceptable Limit of 1μg/g). The use of such creams may lead to health hazards. Therefore, it is recommended that all skin whitening creams should be checked for mercury levels and other toxic metals before marketing. Further research to better understand the sources of mercury and other toxic metals in whitening creams and other cosmetic products is recommended.
Keywords:
Mercury, Titanium, Whitening Cream, ICP-MS, Yemen.
Downloads
Download data is not yet available.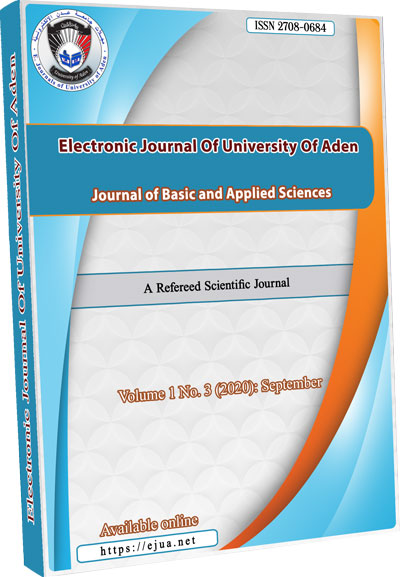 How to Cite
Saleh, S. M. K., Abdul Ghani, O. A. ., Amro, A. N., & Alraddadi, T. S. (2020). INVESTIGATION OF MERCURY AND TITANIUM CONTENTS IN SKIN WHITENING CREAMS COMMONLY USED IN YEMEN BY ICP-MS. Electronic Journal of University of Aden for Basic and Applied Sciences, 1(3), 128-134. https://doi.org/10.47372/ejua-ba.2020.3.34
Copyright (c) 2020 Shaif Mohamed Kasem Saleh, Omeima A. Abdul Ghani, Abdulaziz N. Amro, Thamer S. Alraddadi
This work is licensed under a Creative Commons Attribution-NonCommercial 4.0 International License.