NATURAL PLANT SPECIES INVENTORY OF THE IMPORTANT PLANT AREAS IN ARABIAN PENINSULA: BANI OMAR, TAIZ GOVERNORATE, REPUBLIC OF YEMEN
Abdul Wali Ahmed Al-Khulaidi

Al-Baha University, Science and Art collage, Biology department, Baljurashi, Saudi Arabia

https://orcid.org/0000-0003-0784-4022

Abdul Habib Al-Qadasi

Agricultural Research and Extension Authority, Yemen

Othman Saad Saeed Al-Hawshabi

Biology Department, Faculty of Science, Aden University, Yemen
Abstract
The study area is located on the South western mountains of Republic of Yemen, It is characterized by arid and semi-arid climate with high temperatures and low average annual rainfall. The aims of this study are to explore the natural plant species of one of the Important Plant areas of Arabian Peninsula and to evaluate the chance to be a protected area. 61 sample sites covering the whole ecological zones haven been conducted. 135 plant species are found, in which 3 plant species were endemic, 7 near endemic, 29 regional endemic. The study revealed also three vegetation communities with 7 vegetation associations (vegetation types). Vegetation dominated by Ficus cordata, F. sycomorus, Salvadora persica Tamarix aphylla and Ziziphus spina-christi were found on main wadis. Vegetation communities dominated by Acacia asak, Anisotes trisulcus, Jatropha variegate and Zygocarpum yemenense were found on rocky slopes and stony plateau.
Keywords:
Bani Omar, Endemism, Important Plant Areas, Taiz, Yemen, Vegetation.
Downloads
Download data is not yet available.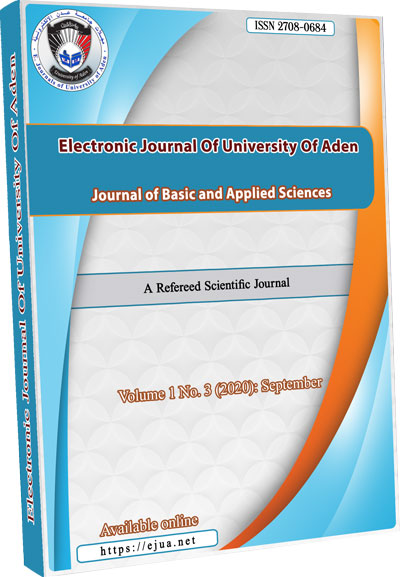 How to Cite
Al-Khulaidi, A. W. A., Al-Qadasi, A. H., & Al-Hawshabi, O. S. S. (2020). NATURAL PLANT SPECIES INVENTORY OF THE IMPORTANT PLANT AREAS IN ARABIAN PENINSULA: BANI OMAR, TAIZ GOVERNORATE, REPUBLIC OF YEMEN. Electronic Journal of University of Aden for Basic and Applied Sciences, 1(3), 135-150. https://doi.org/10.47372/ejua-ba.2020.3.36
Copyright (c) 2020 Abdul Wali Ahmed Al-Khulaidi, Abdul Habib Al-Qadasi, Othman Saad Saeed Al-Hawshabi
This work is licensed under a Creative Commons Attribution-NonCommercial 4.0 International License.