Polyphenols/Flavonoids Analysis and Antimicrobial Activity in Pomegranate Peel Extracts
Omnia Hussein Abdu

Dept. of Pharmaceutical Chemistry/Faculty of Pharmacy, University of Aden, Aden, Yemen

Adel A. M. Saeed

Dept. of Chemistry/Faculty of Science, University of Aden, Aden, Yemen

Taha Abubaker Fdhel

Dept. of Chemistry/Faculty of Aden Education, University of Aden, Aden, Yemen
Abstract
The use of plants still plays a vital role to establish the basic health requirements in developing countries. The extracts of P. granatum and its compounds have shown antimicrobial activity. This study showed that the acetone (125.36±0.01 and 70.5±0.01) extract contained the highest amount of total polyphenols (TPPC) and total flavonoids content (TFC) respectively compared to methanol (105.6±0.005 and 20.99±0.004) extract while methanol extract content was higher than ethanol (94.14±0.02 and14.48 ±0.005). The aqueous extracts content was the less one (83.17 ± 0.003 and 10.65±0.003). When study the antimicrobial activity of four different prepared concentrations of four pomegranate peel extracts against microorganisms including two Gram-positive bacteria [P. aeruginosa and S. aureus], one Gram-negative bacteria [A. baumannii] and Candida parapsilosis. The result shown the antimicrobial activity of acetone extract on all microorganisms the highest value followed by methanol, ethanol, and aqueous extract activity. Besides, the activity of all extracts was good excepted aqueous extract has low antimicrobial activity against S. aureus.
Keywords:
Pomegranate Peel Extracts, Polyphenols and Flavonoids Analysis, Antimicrobial Activity.
Downloads
Download data is not yet available.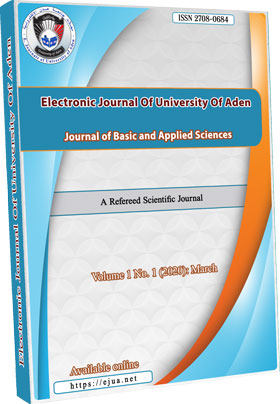 How to Cite
Abdu, O. H., A. M. Saeed, A., & Fdhel, T. A. (2020). Polyphenols/Flavonoids Analysis and Antimicrobial Activity in Pomegranate Peel Extracts. Electronic Journal of University of Aden for Basic and Applied Sciences, 1(1), 14-19. https://doi.org/10.47372/ejua-ba.2020.1.4
Copyright (c) 2020 Omnia Hussein Abdu, Adel A. M. Saeed, Taha Abubaker Fdhel
This work is licensed under a Creative Commons Attribution-NonCommercial 4.0 International License.