SEROPREVALENCE OF HEPATITIS B VIRUS AMONG MULTI-TRANSFUSED BETA THALASSEMIA PATIENTS ATTENDING AT THE YEMENI SOCIETY FOR THALASSEMIA - SANA'A, YEMEN
Mojahed Abdullah A. Al-Shawia

Department of microbiology, Faculty of medical and health Science, University of Science and Technology, Sana'a- Yeman

Qais Yusuf M. Abdullah

Department of Biological Science, Faculty of Science, Sana'a University, Sana'a- Yeman
Abstract
Regular blood transfusion is one of the most important and emergency treatment methods for thalassemia patients. This category of patients is considered sensitive to infection because their continued survival is linked to blood transfusion, and therefore the possibility of infection is great, especially in light of the war and the deterioration of health services in Yemen. Among this infection is the hepatitis B virus, which causes serious complications such as acute hepatitis, liver cirrhosis and hepatocellular carcinoma (HCC). The aim of the study was done to determine incidence of hepatitis B virus and risk factors among Multi-Transfused Beta Thalassemia Patients attending at The Yemeni Society for Thalassemia and Genetic Blood Disorder (YSTGBD) Sana'a –Yemen. This study was conducted during the period from January 2021 to December 2021, during which 200 Blood samples were collected from beta thalassemia patients attending at (YSTGBD). All samples were examined using the ECLIA technique, during which the basic information was collected through special questionnaires for this purpose. The rate of incidence by HBsAg in all study samples was determined to be 7(3.5%). The study showed that there was a statistically significant relationship between infection with the hepatitis B virus and the age group of more than 10 years age (P = 0.042), in addition to that number of blood transfusions received by HBsAg positive was significantly higher than that of HBsAg negative thalassemia patients (P = 0.022).
Keywords:
β-thalassemia patients, Hepatitis B virus, Yemeni Society for Thalassemia (YST)
Downloads
Download data is not yet available.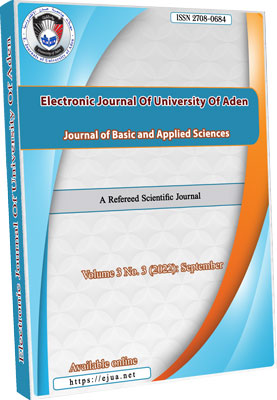 How to Cite
Al-Shawia, M. A. A., & Abdullah, Q. Y. M. (2022). SEROPREVALENCE OF HEPATITIS B VIRUS AMONG MULTI-TRANSFUSED BETA THALASSEMIA PATIENTS ATTENDING AT THE YEMENI SOCIETY FOR THALASSEMIA - SANA'A, YEMEN. Electronic Journal of University of Aden for Basic and Applied Sciences, 3(3), 158-162. https://doi.org/10.47372/ejua-ba.2022.3.181
Copyright (c) 2022 Mojahed Abdullah A. Al-Shawia, Qais Yusuf M. Abdullah
This work is licensed under a Creative Commons Attribution-NonCommercial 4.0 International License.