STABILITY STUDY OF GENTAMICIN SULPHATE INJECTION USING HIGH-PERFORMANCE LIQUID CHROMATOGRAPHY
Shaif Mohammed Kasem Saleh

Dept. of Chemistry, Faculty of Science, University of Aden, Yemen

Safa Fadhel Mohammed Al-Nawi

Dept. of Pharmaceutical Chemistry, Faculty of Pharmacy, Aden, Yemen

Wafa Farooq Suleman Badulla

Dept. of Chemistry, Faculty of Education - Aden, University of Aden, Yemen
Abstract
Stability is the main quality characteristic of any drug product, it involves changes in physical, chemical and biopharmaceutical properties.  The current work studied the stability of gentamicin (Gen) sulfate injection using HPLC, four samples of Gen were selected. Inj-I, Inj-II, Inj-III, and Inj-IV. The selected injections were stored at room temperature and analyzed at zero time then after three and six months. The analysis was achieved using reverse-phase chromatography with isocratic elution at a flow rate of 1.1 ml/min. Chromatography analysis was performed on the ODS (C8) column, 15× 0.45 cm, 5µm particle size, the column temperature was 30 ºC, and a manual injector with a 20 µl loop was used for the injection of the sample solution and mobile phase. The mobile phase was a mixture of methanol/water / glacial acetic acid/sodium 1-heptane sulfonate. The eluent was monitored with a UV-Detector at a wavelength of 330 nm with a flow rate of 1.1 ml/min. The results of the analysis showed that the pH values of all samples decreased slightly however, it was still within the acceptance range of USP. The influence of storage temperature on the degradation of the drug was evidenced whereas the Inj-I sample was the least degraded, while Inj-IV was the highest degraded sample. The accuracy was evaluated by the percent of recovery at three different concentrations in the range (99.38-100%), the precision of the method was satisfactory, and the values of relative standard deviation were less than 2%.
Keywords:
Gentamicin, HPLC, Stability, USP
Downloads
Download data is not yet available.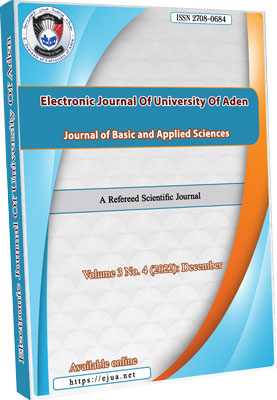 How to Cite
Saleh, S. M. K., Al-Nawi, S. F. M., & Badulla, W. F. S. (2022). STABILITY STUDY OF GENTAMICIN SULPHATE INJECTION USING HIGH-PERFORMANCE LIQUID CHROMATOGRAPHY. Electronic Journal of University of Aden for Basic and Applied Sciences, 3(4), 351-358. https://doi.org/10.47372/ejua-ba.2022.4.205
Copyright (c) 2023 Shaif Mohammed Kasem Saleh, Safa Fadhel Mohammed Al-Nawi, Wafa Farooq Suleman Badulla
This work is licensed under a Creative Commons Attribution-NonCommercial 4.0 International License.