ASSOCIATION BETWEEN CHRONIC KHAT (CATHA EDULIS) CHEWING AND PLASMA LIPID PROFILE AMONG ADULT MALES FROM AL SHUAIB DISTRICT DHALA GOVERNURATE.YEMEN
Abdullah Mohamed Ahmed Saleh Blgeth

Dept. of Biology, Faculty of Education, University of Aden, Yemen

Galal Mohammed Salem Assakaf

Dept. of Biology, Faculty of Education, University of Aden, Yemen
Abstract
This study aims to investigate the association between chronic khat chewing (5 to 30 years duration) and dyslipidemia among healthy males in Al Shuaib District. One hundred participants from different villages agreed to complete the study with us. In this cross sectional study sample objects 230 males were selected randomly and divided according to ages and chewing khat duration, into four groups each (n= 20) and a control group of (n=20) non khat chewers. Data were obtained using a questionnaires and fasting blood sample collected and examined for lipid profile measurements including levels of total cholesterol TC, triglyceride TG, low density lipoprotein cholesterol (LDL-C) and high density lipoprotein cholesterol (HDL-C).The mean levels of TC in groups D (179.5mg/dl) and E (180mg/dl) was higher significantly than control group subjects (156mg/dl). levels of HDL decreased in khat chewers; D and E groups (44.5mg/dl and 41mg/dl) respectively compared to the control group (46.4mg/dl).  On the other hand, the average LDL increased in the D and E subject groups (103.4mg/dl) and (112.4mg/dl) respectively compared with control 93.8mg/dl. The level of TG was increased in all study groups A, B, D and E having statistical significance p < 0.05 compared with control C. There was a higher dyslipidemia among subjects of khat chewing groups than non khat chewers in relation to increase of mean years of khat chewing. There is a significant association between chronic khat chewing and dyslipidemia especially the decrease in HDL-C level was the main lipid variable followed by TG level. The imbalanced lipid profile might be due to genetic factor or social dietary habits, besides wide spread use of pesticides during cultivation of khat plant which have toxicity in area of study.
Keywords:
Chronic, Dyslipidemia, Khat chewing, Lipid profile
Downloads
Download data is not yet available.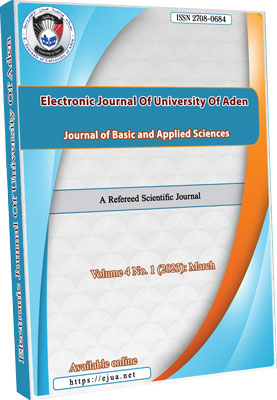 How to Cite
Blgeth, A. M. A. S., & Assakaf, G. M. S. (2023). ASSOCIATION BETWEEN CHRONIC KHAT (CATHA EDULIS) CHEWING AND PLASMA LIPID PROFILE AMONG ADULT MALES FROM AL SHUAIB DISTRICT DHALA GOVERNURATE.YEMEN. Electronic Journal of University of Aden for Basic and Applied Sciences, 4(1), 84-89. https://doi.org/10.47372/ejua-ba.2023.1.224
Copyright (c) 2023 Abdullah Mohamed Ahmed Saleh Blgeth and Galal Mohammed Salem Assakaf
This work is licensed under a Creative Commons Attribution-NonCommercial 4.0 International License.