EFFECT OF ADDING TURMERIC (CURCUMA LONGA) POWDER TO BROILER DIET ON THE PERFORMANCE AND SOME OF CARCASS TRAITS
Salem Nasser Hussein

Dept. of Animal Production, Faculty of Nasser Faculty of Agricultural Science, University of Lahij, Lahij, Yemen

Abdel-Wahed Awad Ahmed

Dept. of Animal Production, Faculty of Nasser Faculty of Agricultural Science, University of Lahij, Lahij, Yemen
Abstract
This experiment was conducted at the poultry farm in Nasser faculty of Agricultural sciences, University of Aden, during the period from 3/2/2021 to 2/3/2021. To study the effect of inclusion two levels of turmeric (Curcuma longa) powder on broiler performance and some of carcass parameters. 90 Ross broiler chicks were allocated randomly to three dietary treatments from 7 – 35days of age with three replicate (10 bird \ pen). The experimental diets were as follow: (T1) standard diet without any supplementation (control), (T2) standard diet supplemented with 0.25% turmeric powder, and (T3) standard diet supplemented with 0.5% turmeric powder. Result showed that final body weight, total weight gain and feed conversion were significantly increased (p < 0.05) for the second (T2) and third (T3) treatment compared with the first treatment (T1), so there were significant improvement (P<0.05) in final body weight and total weight gain for third treatment (T3) compared with second treatment (T2), as well as the results showed a significant decrease (P<0.05) in the dressing percentage for the second treatment when compared with the first and third treatment. While There were no significant differences among treatments as feed consumption and relative weights of chest, thigh and eatable internal organs (Gizzard, Liver and heart). From this study it could be concluded that supplementing broiler diets with 0.25% or 0.5 % curcuma powder improved significantly broiler performance and could be used as growth promoter.
Keywords:
Curcuma powder, Broilers chickens, Performance, Carcass traits
Downloads
Download data is not yet available.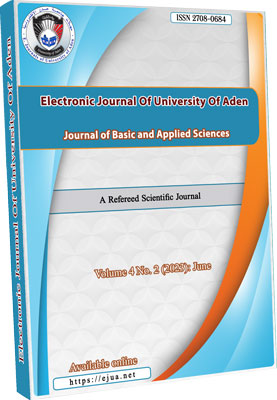 How to Cite
Hussein, S. N., & Ahmed, A.-W. A. (2023). EFFECT OF ADDING TURMERIC (CURCUMA LONGA) POWDER TO BROILER DIET ON THE PERFORMANCE AND SOME OF CARCASS TRAITS. Electronic Journal of University of Aden for Basic and Applied Sciences, 4(2), 173-177. https://doi.org/10.47372/ejua-ba.2023.2.248
Copyright (c) 2023 Salem Nasser Hussein and Abdel-Wahed Awad Ahmed
This work is licensed under a Creative Commons Attribution-NonCommercial 4.0 International License.