WAR THORACIC WOUNDS AMONG CIVILIANS CASUALTIES IN ADEN DURING THE 2015
Mohamed Hasson Salem

Department of General Surgery, Medicine Faculty, Aden University, Aden, Yemen

https://orcid.org/0000-0003-1246-506X

Gamal M. Khuda Bux

Department of General Surgery, Medicine Faculty, Aden University, Aden, Yemen

Awadh Hudeel

Department of General Surgery, Basuheeb Military General Hospital, Aden, Yemen
Abstract
Thoracic injury during warfare was associated with a high incidence of morbidity and mortality. In wartime, civilians have became a direct target and accounted for one-half to two-thirds of the casualties. We aimed to highlight the incidence and pattern of thoracic injury and its outcomes management among civilians during the war in Aden.  This retrospective study was based on the data were prospectively recorded in Medical Registry. There were 84 civilian casualties identified during the study period. Of those, 97.6% of casualties were males and 2.4% were females. The overall mean age was 30.8 ± 9.8 years (range: 10 – 65 years). Of those, 73.8% of casualties were produced by rifle bullets, while 26.2% of casualties were due to fragmentation weapons. Hemopneumothorax was the most common injury patterns. Abdomen injury was the most common associated injuries. Of those, 91.7% of casualties were treated with chest tube insertion alone. Thoracotomy was performed for 7.1% of casualties. The overall complications were 54.8%. Wound infection was the most frequent complications. The overall mortality rate was 3.6%. The overall mean hospital stay was 8.3 ± 5.9 days. We concluded that chest drain is best option for treatment the majority penetrating chest wounds.
Keywords:
War, Thoracic injury, Civilians.
Downloads
Download data is not yet available.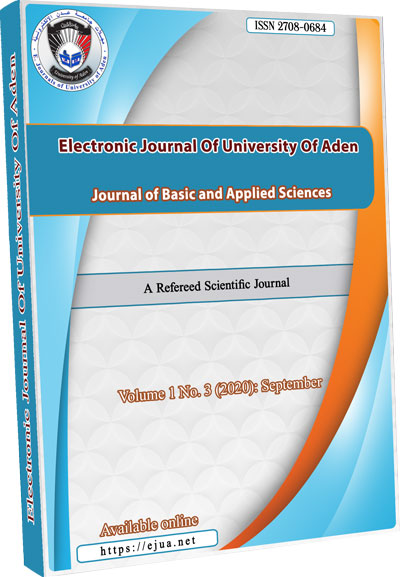 How to Cite
Salem, M. H., Khuda Bux, G. M., & Hudeel, A. (2020). WAR THORACIC WOUNDS AMONG CIVILIANS CASUALTIES IN ADEN DURING THE 2015. Electronic Journal of University of Aden for Basic and Applied Sciences, 1(3), 159-166. https://doi.org/10.47372/ejua-ba.2020.3.39
Copyright (c) 2020 Mohamed Hasson Salem, Gamal M. Khuda Bux, Awadh Hudeel
This work is licensed under a Creative Commons Attribution-NonCommercial 4.0 International License.