A REVIEW ON SOME CULTIVATED AND NATIVE POISONOUS PLANTS IN ADEN GOVERNORATE, YEMEN
Rawiya H. Alasbahi

Department of Pharmacognosy, Faculty of Pharmacy, Aden University, Aden, Yemen

https://orcid.org/0000-0002-1200-9358

Othman S. S. Al-Hawshabi

Department of Biology, Faculty of Science, Aden University, Aden, Yemen
Abstract
Plant poisoning is a health concern in many countries where plants are used either accidently, especially among children, or intentionally for purposes such as assassination, suicide, hunting, fishing and treating various diseases. Presently, despite the implementation of toxicology surveillance systems in many countries, plant poisoning continues to be a preventable cause of morbidity and mortality.
In the Aden governorate of Yemen, there are no laws or regulations for the prevention of plant poisoning, despite the existence of several poisonous species in gardens, and as roadside trees planted by the local authority, or growing wildly in public areas. In addition, there is a lack of scientific studies on the risks of these poisonous plants. Therefore, we undertook this study, based on scientific review, to document and illustrate the botanical, geographical and toxicological characteristics of fourteen poisonous plants collected from different districts of Aden governorate.
The documented poisonous species (6 species) belong to Apocynaceae followed by Fabaceae (2 species), whereas Aristolochiaceae, Cucurbitaceae, Dracaenaceae, Euphorbiaceae, Meliaceae, and Verbenaceae are represented by one species each. The toxic parts of the majority of studied poisonous species are the whole plant, latex, seeds, and fruits. Cardiotoxicity, cytotoxicity, gastrointestinal toxicity, and inflammation of skin and mucous membrane are the main clinical manifestations. They are caused by varying amounts of plant toxins such as cardiac glycosides in Calotropis procera, Cryptostegia grandiflora, Nerium oleander and Thevetia peruviana, and cytotoxic toxins such as toxalbumins in Abrus precatorius and Ricinus communis, aristolochic acids in Aristolochia bracteolate, and vinca alkaloids in Catharanthus roseus, as well as gastrointestinal toxins such as cucurbitacins in Citrullus colocynthis, and tannins in Caesalpinia pulcherrima. Inflammation of skin and mucous membrane is caused by calcium oxalate crystals in Calotropis procera latex, and soluble protein in Cryptostegia grandiflora latex. Moreover, Azadirachta indica caused a number of toxicities attributed partially to tetranortriterpenoids, while Sansevieria trifasciata toxicity was reported to be low.
The significance of this work is to promote the awareness among the local authority to take legal actions against plant poisoning. In addition, it provides the physicians with scientific information for the diagnosis and treatment of poisoning by some plants. It is hoped that this study motivates researchers to conduct further research on poisonous plants throughout Yemen.
Keywords:
Aden, Cultivated, Native, Poisonous plants, Toxicity, Yemen.
Downloads
Download data is not yet available.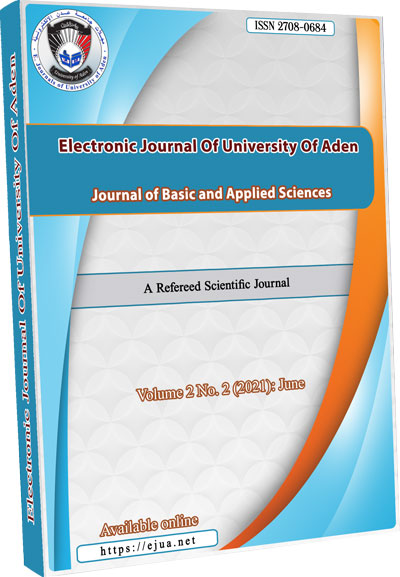 How to Cite
Alasbahi, R. H., & Al-Hawshabi, O. S. S. (2021). A REVIEW ON SOME CULTIVATED AND NATIVE POISONOUS PLANTS IN ADEN GOVERNORATE, YEMEN. Electronic Journal of University of Aden for Basic and Applied Sciences, 2(2), 54-70. https://doi.org/10.47372/ejua-ba.2021.2.91
Copyright (c) 2021 Rawiya H. Alasbahi, Othman S. S. Al-Hawshabi
This work is licensed under a Creative Commons Attribution-NonCommercial 4.0 International License.