QUANTITATIVE DETERMINATION OF THE TOTAL CHOLESTEROL IN SOME MILKS OF YEMENI MARKETS
Adel A. M. Saeed

Dept. of Chemistry, Faculty of Science, University of Aden, Aden, Yemen

https://orcid.org/0000-0002-1154-2994

Taha Abu-Bakr Fahdel Salem

Dept. of Chemistry, Faculty of Education, University of Aden, Aden, Yemen

Fares Saif Salem Al-Saidi

Dept. of Chemistry Faculty of Education, University of Aden, Yafae, Yemen
Abstract
The recent study aimed to determine the total cholesterol quantitatively by High-Pressure Liquid Chromatography (HPLC) in some milks sold in Yemeni markets. Thirteen samples were randomly collected from several markets and animal farms (in Aden and Abyan governorates) and prepared for analysis. The cholesterol levels of the milk samples ranged between (0.34-22.8 mg/100g), and the highest cholesterol content was in the order: fresh and whole cream animal milk > the commercial whole cream animal milk > the commercial free-fat animal milk, to which a vegetable oil was added
Keywords:
Total Cholesterol, Milks in Yemeni Markets, HPLC Analysis
Downloads
Download data is not yet available.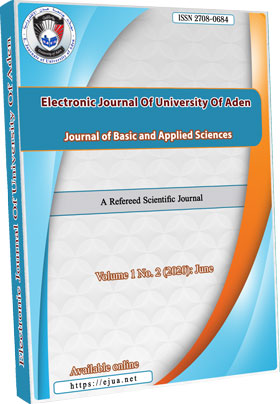 How to Cite
Saeed, A. A. M., Salem, T. A.-B. F., & Al-Saidi, F. S. S. (2020). QUANTITATIVE DETERMINATION OF THE TOTAL CHOLESTEROL IN SOME MILKS OF YEMENI MARKETS. Electronic Journal of University of Aden for Basic and Applied Sciences, 1(2), 111-119. https://doi.org/10.47372/ejua-ba.2020.2.22
Copyright (c) 2020 Adel A. M. Saeed, Taha Abu-Bakr Fahdel Salem, Fares Saif Salem Al-Saidi
This work is licensed under a Creative Commons Attribution-NonCommercial 4.0 International License.